Calculating the Cost
(Note: I know that last week I said this week will be the last full deck breakdown, unfortunately, that article is not where I want it to be yet, so I am saving it for next week.)
In every one of my deck breakdowns I have included a section devoted to the cost of the deck.
Sometimes the cost was high, and others relatively low. I always tried to present options on how to lower the cost wherever possible, but for many decks that was an impossibility without compromising some important area of the deck.
Modern is an expensive format. I am not happy about that fact, but it is a fact.
To play a lot of Modern it takes a financial commitment of at least $250 for the cheapest deck, and $550 for the cheapest best deck.
That is a lot for cards and no one is made of money.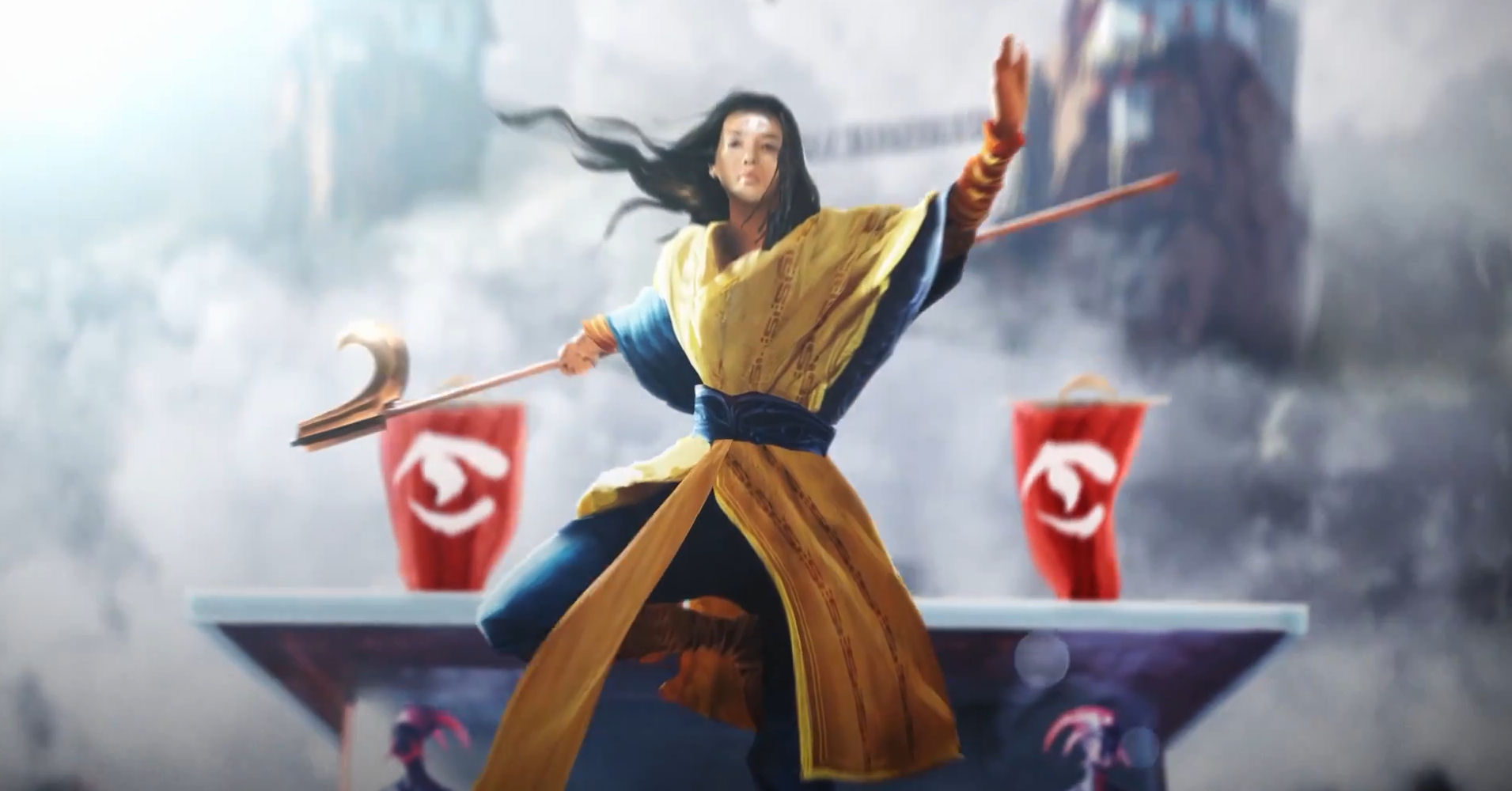 It does not take a rocket scientist to figure out that saving up for cards is the best way to break into Modern, but let me show you how in the long run it is financially beneficial for you to invest in a (pseudo) eternal format.
In Standard one of the best decks right now, Jeskai Fireworks, costs about $330.
Now that deck will not be among the best for very long, and it will have to adapt to a changing metagame, just like every other deck, if it wants to stay on top for as long as it can.
So lets make an assumption that it will cost $50 every new set to keep it current, also lets say seven months from now when the next block comes out this Jeskai deck is no longer any good.
That means you may have to spend another $150-$200 to get the newest deck.
Meanwhile all the cards that cycle out of standard lose all their value unless they find a place in an eternal format. Meaning that when the whole deck eventually leaves standard, you will lose a good $250 worth of value from that Jeskai deck.
So after seven months you have now spent about $630 without any return on that investment. Spending that same amount on a Modern deck with Modern staples will give you a competitive deck that will not decrease in value!
I cannot stress that point enough.
If you were to take a break from Standard for just one year, you would save enough to be able to build almost any Modern deck your heart desires. I have heard the same is true for Legacy if you can go two years without Standard.
Please do not confuse what I am saying, Standard is a fine format and it is the cheapest format to get into by far.
Many people love to play standard and like the volatility of the format. I just do not like how easily the format can get stale and the lack of value the cards have when they rotate.
The numbers I have presented are not scientifically derived from many months of intense research, but rather ball park estimates. I believe that these estimates are on the low side just for arguments sake. So believe me when I say that investing in Modern will actually give you a return on your investment should you ever need it.
It probably comes as no surprise that Modern is my favorite format.
I really enjoy the diversity that it has and how skill intensive it is. I want to encourage as many players as I can to start playing Modern at their LGS since it is the best way to play!
After next week's article on Birthing Pod I will stop highlighting the cost of Modern decks and cards since I have gotten this point across to you.
After this detailed explanation, any more I talk about will be beating the proverbial dead horse.
To the Pro Tour
As I understand it, Preliminary Pro Tour Qualifiers (PPTQ's) start this weekend. I cannot wait to start going to them to qualify for the real Pro Tour Qualifier (PTQ) to then qualify for the Pro Tour (PT). It may seem like a lot of steps to get there, and it is, but well worth it.
Especially since they are handing out foil Liliana of the Veils to everyone that enters a regional PTQ.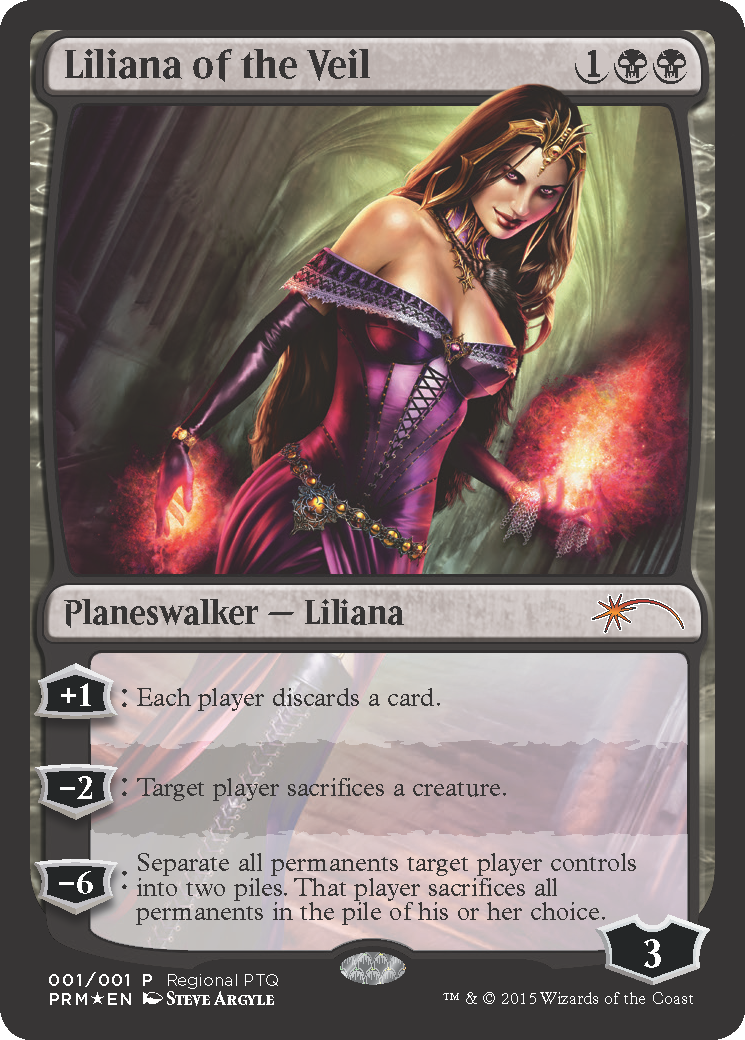 Also remember that you can qualify for the PT through any of the several Grand Prix (GP) events.
I found a nice little website that will help you map out your own path to the PT right Here. It seems to be still in the works but it looks good for what it is trying to do.
I for one have a little trouble keeping up with where everything is going to be and when, so having this as an all in one resource for Magic tournaments will be helpful to me and I hope it will be helpful to you too.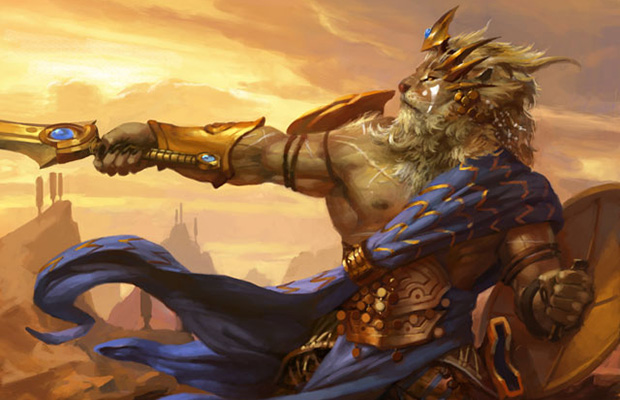 The necessity to have a job that works me on the weekends has prevented me from attending many large tournaments since GP Richmond.
Fortunately I have found a better job that will work me through the week that I am starting this Monday. So I will be able to attend many more events on the weekends to continue my own path to the PT.
I would like to hear from all of you aspiring Pro Tour goers this week.
How close have you come to winning an invitation?
How long has it taken you to get where you are now?
Leave the answers for those questions in the comments below for those who may need a little bit of encouragement to get to Magic's finest stage.
Until next week!
Andy Ragle
AwesomeRagle@mtgprotutor.com
<script src="https://app.convertkit.com/assets/CKJS4.js?v=21"></script> <div class="ck_form ck_vertical_subscription_form"> <div class="ck_form_content"> <h3 class="ck_form_title">DOMINATE FNM Email Mini Course</h3> <div class="ck_description"> <span class="ck_image"> </span> <p><p>Subscribe to receive the email mini course, my weekly newsletter and instant access to a free resource guide!</p></p> </div> </div> <div class="ck_form_fields"> <div id='ck_success_msg' style='display:none;'> <p>Success! Now check your email to confirm your subscription.</p> </div> <!-- Form starts here --> <form id="ck_subscribe_form" class="ck_subscribe_form" action="https://app.convertkit.com/landing_pages/6568/subscribe" data-remote="true"> <input type="hidden" value="{"form_style":"full","embed_style":"inline","embed_trigger":"scroll_percentage","scroll_percentage":"70","delay_seconds":"10","display_position":"br","display_devices":"all","days_no_show":"15","converted_behavior":"hide"}" id="ck_form_options"></input> <input type="hidden" name="id" value="6568" id="landing_page_id"></input> <div class="ck_errorArea"> <div id="ck_error_msg" style="display:none"> <p>There was an error submitting your subscription. Please try again.</p> </div> </div> <div class="ck_control_group ck_first_name_field_group"> <label class="ck_label" for="ck_firstNameField">First Name</label> <input type="text" name="first_name" class="ck_first_name" id="ck_firstNameField"></input> </div> <div class="ck_control_group ck_email_field_group"> <label class="ck_label" for="ck_emailField">Email Address</label> <input type="email" name="email" class="ck_email_address" id="ck_emailField" required></input> </div> <label class='ck_checkbox' style='display:none;'> <input class="optIn ck_course_opted" name='course_opted' type="checkbox" id="optIn" checked /> <span class='ck_opt_in_prompt'>I'd like to receive the free email course.</span> </label> <button class="subscribe_button ck_subscribe_button btn fields" id='ck_subscribe_button'> Join the Course </button> <span class="ck_guarantee"> We won't send you spam. Unsubscribe at any time. <a class="ck_powered_by" href="http://convertkit.com/?utm_campaign=poweredby">Powered by ConvertKit</a> </span> </form> </div> </div> <style type="text/css">/* Layout */ .ck_form { /* divider image */ background: #fff url(data:image/gif;base64,R0lGODlhAQADAIABAMzMzP///yH/C1hNUCBEYXRhWE1QPD94cGFja2V0IGJlZ2luPSLvu78iIGlkPSJXNU0wTXBDZWhpSHpyZVN6TlRjemtjOWQiPz4gPHg6eG1wbWV0YSB4bWxuczp4PSJhZG9iZTpuczptZXRhLyIgeDp4bXB0az0iQWRvYmUgWE1QIENvcmUgNS41LWMwMTQgNzkuMTUxNDgxLCAyMDEzLzAzLzEzLTEyOjA5OjE1ICAgICAgICAiPiA8cmRmOlJERiB4bWxuczpyZGY9Imh0dHA6Ly93d3cudzMub3JnLzE5OTkvMDIvMjItcmRmLXN5bnRheC1ucyMiPiA8cmRmOkRlc2NyaXB0aW9uIHJkZjphYm91dD0iIiB4bWxuczp4bXA9Imh0dHA6Ly9ucy5hZG9iZS5jb20veGFwLzEuMC8iIHhtbG5zOnhtcE1NPSJodHRwOi8vbnMuYWRvYmUuY29tL3hhcC8xLjAvbW0vIiB4bWxuczpzdFJlZj0iaHR0cDovL25zLmFkb2JlLmNvbS94YXAvMS4wL3NUeXBlL1Jlc291cmNlUmVmIyIgeG1wOkNyZWF0b3JUb29sPSJBZG9iZSBQaG90b3Nob3AgQ0MgKE1hY2ludG9zaCkiIHhtcE1NOkluc3RhbmNlSUQ9InhtcC5paWQ6MUQ5NjM5RjgxQUVEMTFFNEJBQTdGNTQwMjc5MTZDOTciIHhtcE1NOkRvY3VtZW50SUQ9InhtcC5kaWQ6MUQ5NjM5RjkxQUVEMTFFNEJBQTdGNTQwMjc5MTZDOTciPiA8eG1wTU06RGVyaXZlZEZyb20gc3RSZWY6aW5zdGFuY2VJRD0ieG1wLmlpZDoxRDk2MzlGNjFBRUQxMUU0QkFBN0Y1NDAyNzkxNkM5NyIgc3RSZWY6ZG9jdW1lbnRJRD0ieG1wLmRpZDoxRDk2MzlGNzFBRUQxMUU0QkFBN0Y1NDAyNzkxNkM5NyIvPiA8L3JkZjpEZXNjcmlwdGlvbj4gPC9yZGY6UkRGPiA8L3g6eG1wbWV0YT4gPD94cGFja2V0IGVuZD0iciI/PgH//v38+/r5+Pf29fTz8vHw7+7t7Ovq6ejn5uXk4+Lh4N/e3dzb2tnY19bV1NPS0dDPzs3My8rJyMfGxcTDwsHAv769vLu6ubi3trW0s7KxsK+urayrqqmop6alpKOioaCfnp2cm5qZmJeWlZSTkpGQj46NjIuKiYiHhoWEg4KBgH9+fXx7enl4d3Z1dHNycXBvbm1sa2ppaGdmZWRjYmFgX15dXFtaWVhXVlVUU1JRUE9OTUxLSklIR0ZFRENCQUA/Pj08Ozo5ODc2NTQzMjEwLy4tLCsqKSgnJiUkIyIhIB8eHRwbGhkYFxYVFBMSERAPDg0MCwoJCAcGBQQDAgEAACH5BAEAAAEALAAAAAABAAMAAAICRFIAOw==) repeat-y center top; font-family: 'Helvetica Neue', Helvetica, Arial, Verdana, sans-serif; line-height: 1.5em; overflow: hidden; color: #666; font-size: 16px; border-top: solid 20px #3071b0; border-top-color: #3071b0; border-bottom: solid 10px #3d3d3d; border-bottom-color: #1d446a; -webkit-box-shadow: 0px 0px 5px rgba(0,0,0,.3); -moz-box-shadow: 0px 0px 5px rgba(0,0,0,.3); box-shadow: 0px 0px 5px rgba(0,0,0,.3); clear: both; margin: 20px 0px; } .ck_form, .ck_form * { -webkit-box-sizing: border-box; -moz-box-sizing: border-box; box-sizing: border-box; } #ck_subscribe_form { clear: both; } /* Element Queries — uses JS */ .ck_form_content, .ck_form_fields { width: 50%; float: left; padding: 5%; } .ck_form.ck_horizontal { } .ck_form_content { border-bottom: none; } .ck_form.ck_vertical { background: #fff; } .ck_vertical .ck_form_content, .ck_vertical .ck_form_fields { padding: 10%; width: 100%; float: none; } .ck_vertical .ck_form_content { border-bottom: 1px dotted #aaa; overflow: hidden; } /* Trigger the vertical layout with media queries as well */ @media all and (max-width: 499px) { .ck_form { background: #fff; } .ck_form_content, .ck_form_fields { padding: 10%; width: 100%; float: none; } .ck_form_content { border-bottom: 1px dotted #aaa; } } /* Content */ .ck_form_content h3 { margin: 0px 0px 15px; font-size: 24px; padding: 0px; } .ck_form_content p { font-size: 14px; } .ck_image { float: left; margin-right: 5px; } /* Form fields */ .ck_errorArea { display: none; } #ck_success_msg { padding: 10px 10px 0px; border: solid 1px #ddd; background: #eee; } .ck_label { font-size: 14px; font-weight: bold; } .ck_form input[type="text"], .ck_form input[type="email"] { font-size: 14px; padding: 10px 8px; width: 100%; border: 1px solid #d6d6d6; /* stroke */ -moz-border-radius: 4px; -webkit-border-radius: 4px; border-radius: 4px; /* border radius */ background-color: #f8f7f7; /* layer fill content */ margin-bottom: 5px; height: auto; } .ck_form input[type="text"]:focus, .ck_form input[type="email"]:focus { outline: none; border-color: #aaa; } .ck_checkbox { padding: 10px 0px 10px 20px; display: block; clear: both; } .ck_checkbox input.optIn { margin-left: -20px; margin-top: 0; } .ck_form .ck_opt_in_prompt { margin-left: 4px; } .ck_form .ck_opt_in_prompt p { display: inline; } .ck_form .ck_subscribe_button { width: 100%; color: #fff; margin: 10px 0px 0px; padding: 10px 0px; font-size: 18px; background: #0d6db8; -moz-border-radius: 4px; -webkit-border-radius: 4px; border-radius: 4px; /* border radius */ cursor: pointer; border: none; text-shadow: none; } .ck_form .ck_guarantee { color: #626262; font-size: 12px; text-align: center; padding: 5px 0px; display: block; } .ck_form .ck_powered_by { display: block; color: #aaa; } .ck_form .ck_powered_by:hover { display: block; color: #444; } .ck_converted_content { display: none; padding: 5%; background: #fff; } </style>